Young Child and Baby Birthday Invitations and Cards
Your young child or baby's birthday is always a special time.
Delight family and friends with a birthday party invitation that will reflect the party theme. Let your favorite classic Disney characters, Precious moments gang and whimsical designs add fun to your youngsters birthday party.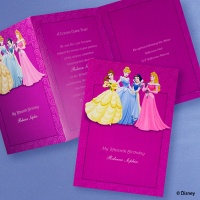 Fairy-Tale Four
The four classic princesses sit atop the front panel on this colorful, z-fold invitation.
$214.90 per 100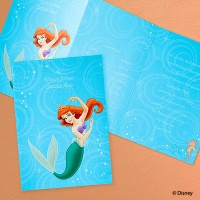 One Little Mermaid, One Big Celebration
The attractive, full color, z-fold invitation gives plenty of room for the message of your choice. Whether 5, 10, 15 or older, this invitation is guaranteed to bring smiles. After all, who doesn't love Ariel, everyone's favorite Little Mermaid?
$214.90 per 100