Wedding Invitations With Borders
If you don't see what you are looking for, CLICK HERE to shop for more Borders invitation options.
Border of Blossoms
Climbing flowers and playful butterflies construct a nature-loving frame to surround the invitation wording.
$80.90 per 100
Accentuate
This square, double bordered invitation sets a stunning mood for your upcoming wedding celebration.
$132.90 per 100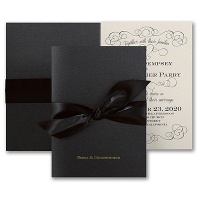 Midnight Passion
The wording "Together with their families", along with a lovely design, surrounds your wording on this ecru shimmer invitation and is enclosed with a black pocket wrap and satin ribbon.
$393.90 per 100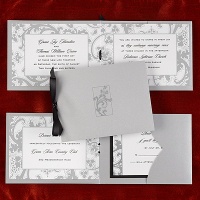 Silver Shimmer Filigree
This bright white card features a grey paisley design and is tied into the silver shimmer wrap with a satin ribbon.
$389.90 per 100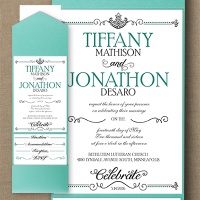 Avenue of Dreams
Capture your dreams on this invitation card that is enclosed with a pocket.
$360.00 per 100
Espresso
Mocha and pearl come together to form this simple, yet elegant border on an ecru card.
$145.90 per 100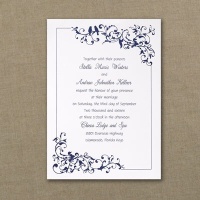 Birds on a Vine
This invitation displays two birds on an elegant vine with a vine design also at the bottom of the card.
$129.90 per 100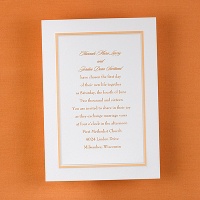 Orange Burst
The orange and pearl border add a burst of color to this bright white invitation.
$145.90 per 100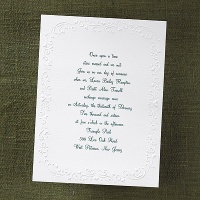 Adorable in White
This bright white card features an embossed hearts and swirls border.
$92.90 per 100