Wedding Invitations With Borders
If you don't see what you are looking for, CLICK HERE to shop for more Borders invitation options.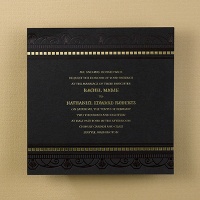 Ritzy Style
The contrast of black and gold gives off some ritzy style for this invitation.
$385.00 per 100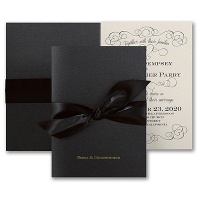 Midnight Passion
The wording "Together with their families", along with a lovely design, surrounds your wording on this ecru shimmer invitation and is enclosed with a black pocket wrap and satin ribbon.
$393.90 per 100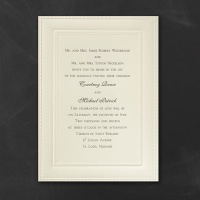 Royal 100% Cotton Paneled
A border of petite embossed dots line the outer edge of this ecru invitation, creating a light accent. A raised double border frames your wording. This invitation is part of the Royal Collection, printed on 100% pure cotton content, watermarked papers.
$339.90 per 100
Pearl Hearts
A intricate pearlized heart and rose border makes this invitation just stunning.
$185.90 per 100
Wedding Day Grandeur
A vintage border dressed with flourishes, dots and lines frames your wording on this pocket invitation.
$360.00 per 100
Vintage Ecru
A vintage pearlized border makes this Royal 100% Cotton invitation, pure bliss.
$362.90 per 100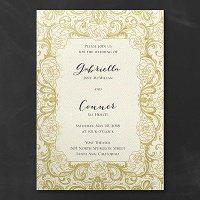 Glitz and Glam
Dreaming of a glamorous wedding? This ecru, glittery wedding invitation will introduce it perfectly. Choose the options that show your style.
$229.90 per 100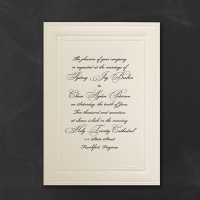 Classic Ecru
Embossed dots and paneled borders give beautiful dimension to this Royal 100% Cotton invitation.
$343.90 per 100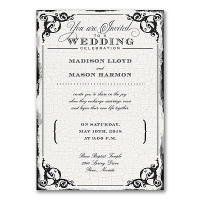 Antique Filigree Frame
Vintage wedding? Romantic wedding? Western wedding? Introduce it perfectly with these wedding invitations with a crackled, antique black background.
$154.90 per 100
Silver Border Elegance
This bright white invitation has a sparkly silver border surrounding it.
$237.90 per 100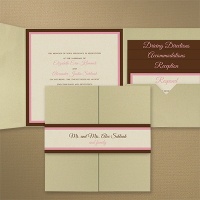 Modern Border
A modern border design is shown on this card. Pockets are available in several colors
$360.00 per 100
Midnight Roses
Something blue in a beautiful way. Bright roses and foil dots pop from the dark blue background of this ecru wedding invitation. Choose the options that show your style.
$229.90 per 100