Seal 'n Send Wedding Invitations
Fabulous new concept, just seal and send. It is that easy.
Wow!! Did you ever think that you would see the words: Easy, Convenient, and Wedding all in the same sentence? Well here it is. Seal 'n send invitations. You just seal it, address it, or for extra charge, get them pre-addressed, put the stamp on and drop it in the mail box.
Everything is in one piece that is separated by perforations. Even your guests don't have to work too hard to respond... just detach the response card and send. LOVE IT!!!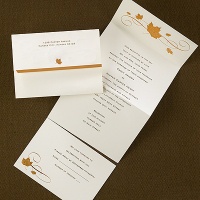 Bronze Maple Seal 'n Send
Perfect for an autumn wedding this ecru seal 'n send invitation features bronze maple leaves to create an elegant look.
$127.90 per 100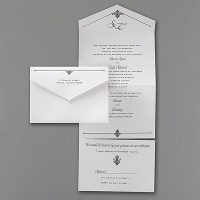 Black and White Seal 'n Send
Elegant white seal 'n send invitation is composed of 100% post-compound fibers that also features your initials.
$145.90 per 100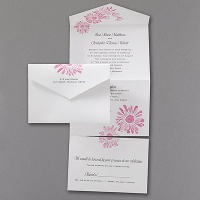 Fuchsia Daisy Seal 'n Send
A fuchsia and pink daisy on a white background brings this seal 'n send a live with fun
$162.90 per 100
Lacy Rustic
Rustic romance you can afford! A brown woodgrain background and white lacy patterns make this economical seal 'n send wedding invitation ready for your vintage wedding.
$164.90 per 100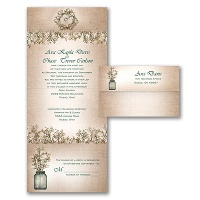 Sweet Rustic
Baby's breath and burlap. Romantic and rustic. It's all captured in sweet style on this seal 'n send wedding invitation's design.
$172.90 per 100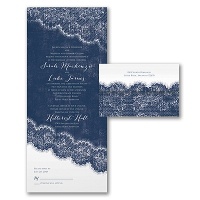 Love the Lace
Weddings are all about the lace. And this seal 'n send wedding invitation is all about your style with your color choice. The back ground/main design, is available in many different colors.
$172.90 per 100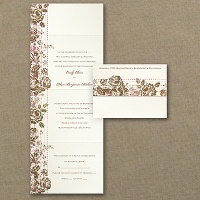 Faded Floral
A detailed floral design is printed in faded rose and brown along the left side of this ecru seal-n-send invitation.
$153.90 per 100