Seal 'n Send Wedding Invitations
Fabulous new concept, just seal and send. It is that easy.
Wow!! Did you ever think that you would see the words: Easy, Convenient, and Wedding all in the same sentence? Well here it is. Seal 'n send invitations. You just seal it, address it, or for extra charge, get them pre-addressed, put the stamp on and drop it in the mail box.
Everything is in one piece that is separated by perforations. Even your guests don't have to work too hard to respond... just detach the response card and send. LOVE IT!!!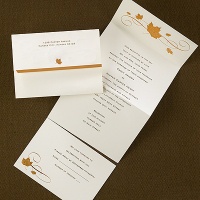 Bronze Maple Seal 'n Send
Perfect for an autumn wedding this ecru seal 'n send invitation features bronze maple leaves to create an elegant look.
$127.90 per 100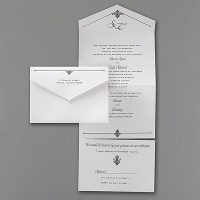 Black and White Seal 'n Send
Elegant white seal 'n send invitation is composed of 100% post-compound fibers that also features your initials.
$145.90 per 100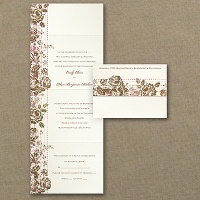 Faded Floral
A detailed floral design is printed in faded rose and brown along the left side of this ecru seal-n-send invitation.
$153.90 per 100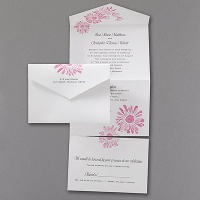 Fuchsia Daisy Seal 'n Send
A fuchsia and pink daisy on a white background brings this seal 'n send a live with fun
$162.90 per 100
♥Royal Black Seal 'n Send
Keep it all together with this bright white seal 'n send invitation featuring a black filigree design.
$131.90 per 100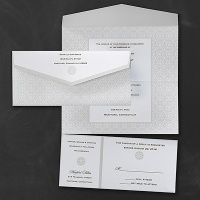 A Grand Event
This regal seal 'n send is sure to signal the refined style of your special day. A thick, decorative border frames your wording and adds a luxe style to this shimmering invitation. Complete with a perforated respond postcard and reception card, this seal 'n send is the perfect package.
$330.00 per 100